Job Scams and Simple Amusement
Some alchemy of turning

ire

into comic channels
by John Worster
Another skewed view—actually a double-header—from the Beaniemeister's former mixologist turned Motor City compatriot in arms. "C'mon John, don't beat around the bush, tell us how it really is." — bw
Game 1:
Hey Brian,
I just saw from your emails that someone liked my rant. I guess there are crazy people walking the streets. Glad to know I am not alone.
Something else I wanted share about job seeking that may help others. I recently saw an ambiguous ad in the paper for a decent-paying job. I called the number and set up an interview. I asked many questions because the ad was so vague. I finally got the company name. It was basically a gas company. I asked the woman if they were the people that went from business to business asking for a copy of their gas bill because they could save that business money.
She said no, she needed someone in the office to deal with customers and deal with sale of the products that they were inquiring about. I was very happy with that response. I then explained how relieved I was because I used to have my own business and those gas-selling assholes always come in at the worst time.
If you are dealing with a restaurant the worst times to come in are the lunch or dinner hour, but there they were, at 12:30 asking me for my gas bill. I would say I was busy and come back later as I was running around cooking. They would then say they only needed five minutes. I would again say I was too busy. Their next move would be to say they would wait. They would stand in the lobby in the customer's way until I would finally snap and say get the hell out of here and don't come back. I will gladly pay more for gas if it keeps your obnoxious ass out of my life.
I go on the interview and the guy tells me I will be working directly with the customer, no base salary, all commission. He goes on describing something familiar. I interrupt him and say, you aren't the guys that go door to door and cold-call businesses for their gas bill? He says no, my manager canvasses an area and I then make the sale.
I then ask him to explain "canvas.". He doesn't do a good job with that. I point out that his canvassing is basically some scrub so-called manager pulling up to a mini-mall and saying, this is perfect, go to it guys. I say, you have to be fucking kidding me, I specifically asked the woman I set this interview up with if this was the job.
He then says, the people up front don't know much about the business, they just set up interviews. He then says he is sorry for the misunderstanding and he would save my resume in case an office position opens up. I then left very proud of myself because it took every ounce of energy not to go Joe Pesci on him and grab him by the back of the head and drive his face into his pompous desk until that smug look was ingrained in it.
Is this what we have become. We now deceive people looking for a job in the hopes of hooking a sucker.[1] I might as well answer that e-mail from Michael Jackson's attorney saying he died and needs me to help move around Mike's $55 million in his account. I can't wait for that interview.
I do try to refrain from swearing because I know it does take away some intellect at times, but I do think sometimes it enhances it. One thing I learned when waiting tables: If the kitchen messed up on your food and was making a replacement, if you walk in and say, "Is that food ready yet? I really need it," then you wait another 15 minutes. If you walk in and say, "Where the fuck is that mother-fucking food you fucked up on? I need it fucking now!", you wait about 3 minutes.

Sometimes it's just about results.
When my nephew was born (he is now 18), I realized I swore in almost every sentence. I figured being born in New Jersey that it was in my blood. I did want to try to be a role model so I tried to curb my swearing. In about six months I rarely swore at all unless it was necessary. Then one day, I walk into my mother's home to see mom, my sister, and my nephew all in the kitchen.
My mother is speaking with my sister and the conversation sounds like this… "Jesus, Mary and Joseph, what the fuck… blah blah blah, fuckity fuck, blahh blah shitting me, blahh blahh, and those stupid fucks... blahhh blahh, fuck me". I was appalled at first, then thought for a moment and said… "Fuck it!" You can take the boy out of Jersey but… you know the rest.
---
Game 2:
Hey Brian,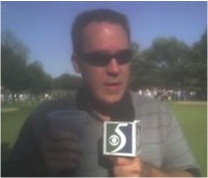 Check out this picture. When I went to the Buick Open on Sunday to honor the last time it would be there, I ran into some fun. I go every year I am able because it is always a relaxing day outside and it is cool to watch someone putt for $918,000.00, especially when the pressure is on.
As I walked up to the 18th green to watch Tiger put it away, I realized I was too short to see much action. I found my way over to the next green to get a better view. Laying in the fringe was this microphone. I thought it was a gag even though it did have a wire. I then picked it up and started doing commentary. I had my roommate take a picture just because.
I did the play by play with Tiger's last putt with emotional commentary and proclaimed he had maimed a little girl when he threw his ball into the crowd after the victory. I did my best Herbert Morrison over Lakehurst impression [Hindenburg Disaster] and I think I nailed it. As the crowd dissipated I noticed the wire on the microphone was attached to a camera about 50 feet away that was covering Tiger's last putt. I walked up to the guy and said I didn't know it was connected and sorry I was talking.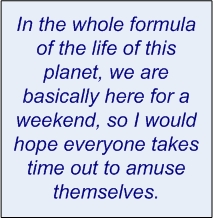 He then said he heard every word and was mildly amused but would have to edit out my voice. The newscaster who worked with him said I would have to do his 6:00 p.m. report as long as I had a few more beers. He didn't seem as upbeat. So to sum up, I was just being my usual self and almost ruined Flint's NBC Channel-5 feed and made more work for the poor tech guys.
Oh well, I wouldn't change a thing. I am here to amuse myself and that is just what happened. In the whole formula of the life of this planet, we are basically here for a weekend, so I would hope everyone takes time out to amuse themselves. No matter how shitty a day you are having or how overwhelmed you feel, a small amount of amusement goes a long way.
A follow up point on my Sirius ready dilemma from my last story. Now this is something I have to work out myself but it worries me that others might be affected. The Indian voices you hear at every customer support line haunt me. The big problem is with my father being sick I spend a lot of time at the hospital.
What do I hear there?

Seems like every doctor is from India. It is tough for me to listen to the doctors tell me about congestive heart failure without drifting into angry mode and only hearing "I am sorry for your anger and will help you, yes, for the problem that you have, yes." (Close your eyes and picture an Indian accent helping you on the phone; it is the exact sentence that he would say.) Like I said, I have to work this out because it is not healthy to have anger brew over something and someone who has no bearing on my former problems.
Wish me luck and I hope others can work through it also.
I guess that former paragraph is part human interest but I am not sure what else I can come up with at the moment. However, Lions[2] training camp opens this week so there should be an endless fountain of humor. I don't even have to write, I will just bring in a camera to the first preseason game and we will let the laughter begin. Looking forward to our next beer session.
###
Thanks for letting me ramble, friend. You can always respond with feedback or a restraining order, whichever you think is necessary. Stay gold, Ponyboy![3] Until next time, hopefully the fog lifts and real purpose sets in.

---
[1] Refer to the Beaniemeister's experience on Internet scams. "There's one way to make money online on the Web: Sell others at $49.95 each the idea that they can make money on the Web."
[2] Detroit Lions, a purported National Football League football team that was pretty good 50 years ago, but last year went 0-16.
[3] Reference to the main character of the 1983 movie, directed by Francis Coppola, in which many of today's biggest box office behemoths—Tom Cruise, Matt Dillon, Ralph Macchio, Patrick Swayze, Rob Lowe, Emilio Estevez, Diane Lane—got a huge, positive Hollywood kick in their early careers: The Outsiders. Ironically, the actor (C. Thomas Howell) playing Ponyboy—who becomes a comparative idealist in a cynical, harsh 1950-ish teen realm—while having a good career, did not become a superstar.

2009 August 17
Copyright © 2009 John Worster
reprinted with permission by the Coffee Coaster
Job Scams | Health Care | Indians | Customer Service | Swearing | New Jersey