2006 November 15
Copyright © Brian Wright
Feature from the Neighborhood News (March 2005)
They Robot
After a lively monthly meeting at Milly's with my freedom people at the Merrimack Valley Porcupines, I decide to heed editor-Ginger's admonition that the high-school robotics competition, March 3-5, at the Verizon Center is a "don't-miss" affair.

This regional "battle of the bots" pits high-school student design teams against one another in a contest brimming with the youthful energy of an NCAA Final Four basketball game. In fact, this year the "Aim High" competition has Hoop Dreams meeting Short Circuit.

The teenager matchups of machinery stem from an idea of a group of inventors and businessmen—chiefly, Dean Kamen, founder of Segway. They formed FIRST (for recognition of science and technology) "…to create a world where science and technology are celebrated, where young people dream of becoming science and technology heroes."

The original rivalry started with 28 teams in a New Hampshire high-school gym, in 1992. Now, they have 1,125 teams, playing in 33 regional events worldwide, culminating in a national final in Atlanta, Georgia, April 27-29.

Out on the runway, near the concession stands, team members and their pep clubs—girlfriends, boyfriends, jocks, freaks, geeks, and especially parents and neighbors—hobnob between bouts, wearing their team "colors." (Nice drug-free psychedelics.)

The atmosphere, even from the balcony, is contagiously electric. On the floor and around the game-court, fans wave bright foam-rubber batons and other cheerleading paraphernalia, a-whoopin' and a-hollerin' for their players.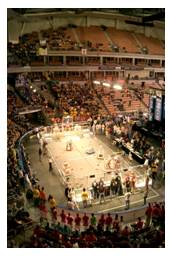 I'm impressed. These are the creative minds, the innovators of tomorrow, and their fans. And they love it. If you want to see "good, clean fun," check out the photo on the left.

In my day, the kids who built Eiffel Towers from Erector Sets were called gearheads. Gearheads walked alone. But through decades of avenging nerds and the rise of geek power, we appear to have cut a more social path for our native tinkerers.

Now it's cool for young people to have ideas, to be inspired, at least in the technical arena. My personal prejudice is to see the Youth of America applying reason so imaginatively in politics as well: "to create a world where freedom is celebrated, where young people dream of becoming heroes of liberty." Technology and freedom, hand in hand.