Carved in Granite II
More storytellers of New Hampshire
---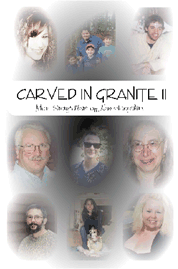 "Pretty stupid thing to do," our police chief Tom Drew said. "He could have stabbed Jeff, or you."
"He didn't," Cowboy said.
"You just don't do things like that," Tom told him. "That's what the police are for. That's what we're trained for."
"You weren't there," Cowboy said. "I was." End of conversation.

— from "Cowboy" by Jessie Salisbury, Lyndeborough
Alert Coffee Coaster book review readers will note that the Proprietor reviewed the Carved in Granite I anthology of short stories, put out by the folks at SciArt Media whom I know through James Maynard, originally. Lately, I've been promoting the work of one of those short story authors in Carved in Granite I, Ronald Kaiser, that I found particularly rewarding. In fact, I was able to get Ron to let me post some of his premier stories right here on the pages of the Coffee Coaster.[1] I hope to continue that process with some of his 'better' stuff.
Note: Let it be known that here on Christmas weekend 2009, yours truly discovered scribd.com, a site that "publishes"—basically anyone who wants to be published—online, with availability for downloading and printing. I learned of the site from a friend, John Ryan, also an author (check out one of his earlier short stories here). To Ron Kaiser et al, and all my friends in the Free State literary community, if I don't get a chance to mention it to you personally—and if you're reading this note—you should look into scribd as a parallel vehicle for moving into the mainstream. [It's too early to draw any conclusions in my own work, but I've uploaded several of my columns and reviews and chronicles... no sales in two days, but >500 total 'reads.']
But to the work at hand, I find these stories more prosaic in general than the ones in the first effort, yet all of them possessing a hook that holds your interest and imagination. Perhaps the word I would use to characterize the vignettes, with a couple of exceptions, is "gentle." Cowboy, the first story, you would think, from violent encounter recounted in the quote at the outset of my review, would be an exception to gentle. Okay, so let's use "understated." I like the way Salisbury creates this anomalous presence that has the unforced strength one associates with native Granite Staters.
"El Guapo," by Timothy Butts, is a shorter short story—and this book of 130-something pages contains 12 stories, so they're mostly on the short side—that tells of "the handsome one" and his dance of courting. The following paragraph explains it all... at lease, so we think:
El Guapo still had his secret weapon. He possessed the one move never tried before in all his recollection of the courting ritual. It was so old school that many knew not of its existence. Most thought the move too dangerous to be properly executed but El Guapo knew that this was his last performance and, if he was to go down in history as the most memorable to hold the title of El Guapo, he knew he had to attempt what he referred to as the Crown Jewel. (pg. 18)
Then Jeff Umbro's piece, "The Tomato Factory," comes along. I find myself drawn into the common-man neighborhood sensibilities, to a place defined by a sort of work and a sort of person. The kind of work that seems to be disappearing, though the persons remain:
People mattered back then. An unusual man could make a fortune with his business, but an honest man took his pleasure from supporting his own block or corner, a little place where someone could put food and beer in their bellies or go to work an honest day. Our honest man was Chubby. He worked as a paperboy from eight 'til he saved up enough to buy the Faneuil tomato Company, and he'd be the first to tell you about it.... (pg. 21)
Jessie Salisbury writes another story, "Hermione," that will have you cheering for the apparent underdog in a domestic abuse situation. "Breathless," by Samantha Reilly, makes me thank my lucky stars for good health, or, if I didn't have good health, appreciating quality local medical care that knows how to listen. In "Trash Talking Too,"[2] Melissa Rossetti Folini of Chester seems to be describing a highly charged, real-life conflict among the citizens and rule-makers of, well, Chester:
"Listen, fella, we have rules in this town and I'm tired of you Massachusetts folks moving up here and trying to change our way of life! If you don't like how we do things you're free to move back at anytime!" Jake suggests.

"You've got a lot of nerve telling me about rules! You're smoking weed and your chickens are juicier than Jose Canseco...," Roy snaps back. (pg. 63)
I thoroughly enjoyed Nikki Andrews' "The Egg Man;" it's easy to forget that so many of the 'Greatest Generation' who need special care in their waning years actually have had lives that are fascinating and unique. Indeed, that's been a project idea of my own, visiting senior living complexes (or going door to door in the old neighborhoods) and interviewing the residents. Nikki's story turns us all into individuals. Superbly executed.
"Bitte Trouble" is science fiction with a special flair. Andreas Lawrence and Nolan Truell of Peterborough may not have written my ideal sci-fi story, but I don't read much in that genre and may have lost touch. Anyway, how can you not appreciate the sense of humor in the following paragraph:
The first time he saw the man was on December 1, 2043: Britney Spears Eve. The holiday had been established a few decades before to celebrate the birth of a woman who was reported to be the greatest musician of the age before the phage. "Oh, to live again in a time with the wonders of Spears, Andrew Lloyd Webber, and Yanni. What marvelous times those were..." he thought. (p. 80)
Like the sci-fi effort, "Bitte Trouble," David Stethem's "Vows Broken" is one of the longer yarns. Plus it's exceptional for departing from the flow of normal life, moving you into a dark world that many know and the "same number of many" wish they did not. Definitely a PG work, and strongly written from a basis of experience that I'm not sure I'd like to have myself.
The anthology winds up with "Keepsakes in the Kitchen" by Cheryl Sommese, another tender exploration of family, and "Howard L. Smith's Hardware Store," by Jonathan Wood. The hardware store-y really brings back memories of my own young work life, though in the restaurant dish (and pot and pan) washing end of hot, smelly jobs. I won't spoil it for you. But Wood gives you a fine sense of what a good hardware store meant often meant for a small town:
Old Howard had this habit of giving stuff away. If someone wasn't quite sure how well a particular product would work, Old Howard would give it to him or her, telling them to bring it back if it didn't work out or pay him later if it did. Doing business that way used to drive Sonny nuts. You can't believe the store loyalty people in the town had. Even when they started opening up hardware specialty stores with much cheaper prices, people would still come to the Howard L. Smith Hardware Store to buy. (p. 130)
Well, that's the extent of CIG II, thoroughly enjoyable prose from some first class storytellers from the Free State. The publication values are good from the perspective of format: nice double spacing with adequate-sized print, and the layout is inviting. Although editing of CIG II is better than CIG I, I still have a couple of stickies marking genuine miscues that major publishers would probably catch. [In these days it's hard to know what major publishers would catch.]
The other thing I miss is my fave stories from Ronald Kaiser and James Maynard, which were in the first effort. Maybe next time.
I have an aunt staying in a senior living establishment in Battle Creek. She tells me that she loves to read short stories, but it's hard to get ahold of them like you could in the old days. "Plus," she volunteers, "every other word is profanity." Well, the Carved in Granite series qualifies as aunt worthy. Nice job, I plan to send complimentary copies to her.
###
[1] The three Kaiser short stories I've posted herein, so far, are: "A Broken Mirror," "Scarcity," and "Tell Me about Her."
[2] If I put my editor's hat to read some of these stories, I can find items to pick at. For instance, conventional usage would put a comma between "Talking" and "Too." But these days you have to consider that best-selling authors like Cormac McCarthy (No Country for Old Men) won't even use punctuation to indicate someone is speaking. (!!)
---

2009 October 01
Copyright © Brian Wright | The Coffee Coaster™
Carved in Granite II | James Maynard et al |New Hampshire Storytellers