2007 March 23
Copyright © Brian Wright
The Coffee Coaster™
Music and Lyrics___
7/10
Valentine's Day screen candy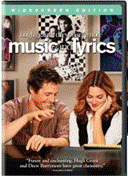 Hugh Grant ... Alex Fletcher
Drew Barrymore ... Sophie Fisher
Brad Garrett ... Chris Riley
Kristen Johnston ... Rhonda Fisher
Haley Bennett ... Cora Corman
Few actors have done as many romantic comedies, not to mention highly successful romantic comedies, as Hugh Grant. So he's on solid ground in this story of a faded 1980s Pop star, Alex Fletcher, who gets a chance to revive his fortunes by writing a special love song for teen sensation Cora Corman (Haley Bennett).

Alex, as a member of a Wham-like pop group named PoP, was Cora's childhood idol. Cora—think of Britney Spears or Shakira with a Buddhism fetish —has it in her head that Alex can write the perfect duet for the two of them to perform at Madison Square Garden. Problem is she wants it in a week, and Alex never wrote any lyrics.

Alex is also down and out. He's still making money from his royalties, but performances are now confined to county fairs and high school reunions, and even some of those cancel on him. But he's still content with himself, happy to be working, resigned to his pleasant, unambitious Southern California existence.

Loyal agent Chris, played by Brad Garret of "Everybody Loves Raymond" fame, encourages Alex to find a lyricist and come up with a song for Cora. It will be a big pay day and who knows, maybe Alex's career can be rekindled in a new direction. The two men are best of friends, and the dialog between them is rife with wit and wry.

Enter Sophie (Drew Barrymore), Alex's replacement plant lady who conveniently has a knack for writing lyrics. The story proceeds entertainingly from there, at least as far as I'm concerned. (A little more than half of the critics I read just rip the entire enterprise from director to third assistant gripper. They may need to manage their expectations better.)

A romantic comedy is almost necessarily carried forward as a "formula," because virtually every movie where 'boy meets girl and eventually they hook up' follows a set pattern. What you look for then as a moviegoer are the subtleties of behavior and chemistry among the characters, intelligent writing, and, well, good acting.

From a comic perspective, I think Hugh Grant has about the best timing out there. And Drew Barrymore as Sophie does a fine job getting into the rhythm. I'll give you two quotes from their dialog, which I assure you will give you a grin or a guffaw coming off the screen:
Alex: [singing] Sleeping with a clown above my bed. [then spoken] 'Clown' is not right.
Sophie: That's 'cloud.' Why would you put a clown in your bed?
Alex: It would not be the first time.

Alex: Theoretically, I could pick you up because I will be taking a cab.
Sophie: I could be standing outside at 9:40 in bright orange clothes, so you wouldn't miss me...
Alex: Oh good, you'll get some road work done while you wait then.
I know what you're saying, no way that's funny. But it really is... unless you just don't like Hugh Grant. And there are 10-20 quips mainly by Alex that convey just the right amount of irony and understatement, delivered naturally.

So aside from the ending that I think could have benefitted from more imagination, this is another enjoyable way to spend your weekend popcorn-eating time. 7/10. Like Alex, the movie happily lives within its limitations.